LINAK A/S
LINAK is globally recognised for high quality, technically advanced, innovative solutions that reach the marketplace as cutting edge products giving both us and our customers a strategic advantage. With more than 7,000 different articles, no one else in the industry offer a wider range of actuator systems than LINAK. Our complete selection includes actuators, lifting columns, control boxes, controls and a wide range of accessories. LINAK has approx. 2,200 employees in 35 countries.

PLCSQL Link is currently implemented in some of the production facilities at LINAK, as a turn-key-solution which collects all test results from the LINAK products in a global database based on Microsoft SQL server as backend with a intranet webpage as frontend for the users.

LINAK has globally decided, that all new test stations must be connected using PLCSQL Link. Existing test equipment around the world is also under migration using PLCSQL Link.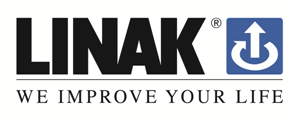 PP Techniq ApS
FF360 is a platform for safe and fast inspection as well as maintenance on wind turbine blades.

On the FF360 has PLCSQL Link been used in a turn-key-solution, where a MySQL server maintains the datalogging of all process values every second.

The values are saved for later analysis in case of extreme situations to ensure the quality control of the product.